Aleatico passito dell'Elba D.O.C.G. wine made with organic grapes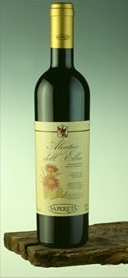 The most celebrated of all Elba Island wines, and yet specific knowledge on this wine is not what it deserves to be. The Aleatico is an aromatic vine, which produces a small round berry black grape, that is sweet and perfumed upon early ripening (late August, first week in September). Only these grapes, after being rigorously selected when picked and raisined for a set time, can produce the best known (and rarest) of all Elba Island wines.
Production zone
These well-exposed vineyards in "Mola", Lo Stipito" and "Pontecchio" are property of the farm. They slope towards the lowland and are well-exposed in a south-south-easterly direction. Some rest within the perimeter of the National Park of the Tuscan Archipelago.
Soils
Poor, clayey and gravelly.
Grapes used
Clones of Aleatico selected on the farm. Average production of grape per hectare: 50 tons of grape. Wine yield 30%. Grape cultivation: Spurred cordon and gobelet-trained.
Production technique
The unique characteristic of this wine is that the grapes, which are picked in small open crates with openings also on the bottom (max 9/10 Kg.), are raisined for at least 15/20 dys. on drying racks at a height of 1 metre from the ground. The raisining process done in the shade produces a series of phenomena: first and foremost the evaporation of the water inside the berry and a concentration of the sugars and all the other substances present. The fermentation process with maceration varies from 10/15 dys. After the skins are pressed, the fermentation process continues slowly until it stops naturally, exceeding 14% of alcoholic content, leaving an average sugary residue of 100/150 g/L.
Organoleptic characteristics
Colour: ruby red, very intense.
Frangrance: strong, pleasant and intense, characteristic, strongly aromatic and penetrating.
Flavour: initially sweet and generous it leaves room to a persistent note of sour cherry and dry fruit.
Alcoholic content: 14% vol.
Recommended serving temperature: 16°-18° C.
Recommended glass: small, short-stemmed glasses.
Serving suggestions: Classic conversation and meditation wine, even without food. It can be served with the dry confectionary of Elba Island that is not too sweet.
Label
Mesembrianthemum Acinaciforme. Trailing plant of the Mediterranean flora. It blossoms in April with spectacular flowers and a beautiful vibrant lilac colour, which are short-lived.