Le Stipe Elba Bianco D.O.C. wine made with organic grapes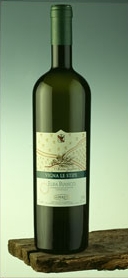 Production zone
The well-exposed vineyards located in "Lo Stipito" are both property of the farm and rented. They slope towards the lowland and are well-exposed in a south-south easterly direction.
Soils
Poor, dry and clayey.
Used grapes
Procanico, Vermentino and Ansonica. The Procanico maintains the delicate fragrances of our land and an unmistakably slightly bitter aftertaste. The Vermentino adds aromatic quality and elegance, the Ansonica, considerably develops the body and colour. Average production of grape per hectare: 70 tons of grape. Wine yield 65%. Grape cultivation: Spurred cordon. Planting pattern 2.40 x 1.00. Average yield of a vine: < 2 kg.
Production technique
The varieties are vinified separately. The picked grapes are kept in the cold for a few days in boxes; the short maceration allows to enhance the characteristic fragrances of the vines. Following a first cold decantation, the fermentation process is begun at 16°C. It is kept on its own yeasts until the bottling stage.
Organoleptic characteristics
Colour: straw yellow, with golden tinges.
Fragrance: delicate.
Flavour: fresh and dry, subtle, but decisive; soft-textured, but lingering, rather zesty with light residue of carbon dioxide. It can keep well for up to 2 years.
Alcoholic content: 12,5% vol.
Recommended serving temperature: 12°-15°, as an aperitif 10°- 12° c.
Recommended glass: Large glass, long-stemmed.
Label
Erica scoparia, (we call it "Scopa" or "Stipa"), local Mediterranean essence, particularly widespread in our area and surrounds the vineyards, from which the location takes its name.