Pontecchio Elba Rosso D.O.C.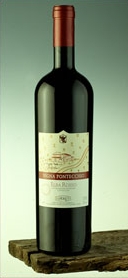 Production zone
The well-exposed vineyards located in "Pontecchio and Mola" are property of the farm and rented. They slope towards the lowland and are well-exposed in a south-south westerly direction, towards the margins and, in part, inside the National Park of the Tuscan Archipelago.
Soils
Poor, clayey, gravelly.
Used grapes
Average production of grape per hectare: 70 tons of grape. Wine yield 65%. Grape cultivation: Low spurred cordon. Planting pattern m 2.50 x 1.60 in couples: equal to 5,000 vines/hectare. Average yield per vine < 1.5 kg.
Production techniques
Vinification with average macerations from 8 to 10 dys. Following malolactic fermentation it is racked into a cement tank, where it remains for the winter. It is bottled in the spring following the harvest.
Organlopetic characteristics
Colour: ruby red, with hints of youth.
Fragrance: intense and heady.
Flavour: stiff, dry and slightly tannic, slightly aromatic.
Alcoholic content: 12,5% vol.
Recommended serving temperature: 18°-20°, if aged 20°-21°.
Recommended glass: Large glass, short-stemmed.
Label
Characteristic Elban manor house still existing in Pontecchio and property of the Sapere family.