Elba Bianco Vigna Tea D.O.C. wine made with organic grapes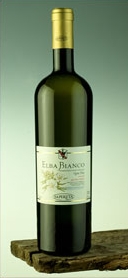 Production zone
The vineyards are property of the farm and located in a small particularly well-exposed area ("lo Stipito") of the grounds. The vineyards slope towards the lowland and are well-exposed in a south-south easterly direction.
Soils
Poor, clayey and gravelly.
Used grapes
Chardonnay, Ansonica and Procanico. Average production of grape per hectare: 70 tns of grape. Wine yield 65%. Grape cultivation: Spurred cordon.
Production techniques
The varieties are vinified separately. The Chardonnay usually ripens around 10th August, the Procanico in mid-September and the Ansonica in late September. The short cold maceration allows to acquire the intense characteristic hints of the vines. Following a first decantation, the fermentation process is begun at 15°C. It is kept on its own yeasts until March-April.
Organoleptic characteristics
Colour: straw yellow with light golden tinges.
Fragrance: delicate but well pronounced.
Flavour: dry, clean and stylish, with a refined backdrop of delightfully lingering fruit. It can be kept for up to two years.
Alcoholic content: 13% vol.
Recommended serving temperature: 12°-15°. As an aperitif 10°-12° C.
Recommended glass: Large glass, long-stemmed.
Label
"Ladano" local species of plant which is found on the Elban coasts, of the same family of the Cisto. It forms large bushes with white flowers and brown/purple marks.