Vigna Tea Rosso Elba D.O.C. wine made with organic grapes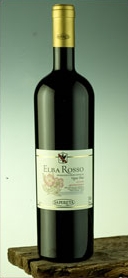 Production zone
The well-exposed vineyards located in "Lo Stipito" are the property of the farm. They slope towards the lowland and are well-exposed in a south-south easterly direction.
Soils
Poor, clayey and gravelly.
Used grapes
Sangiovese clones selected on the farm (locally known as Sangioveto), and Syrah. Average grape production per hectare: 60 tons of grape. Wine yield 65%. Grape cultivation: Low spurred cordon Planting pattern m. 2.50 x 1.60 in couples: equal to 5,000 vines/hectare. Average yield per vine < 1.5 kg.
Production techniques
The varieties are vinified separately with macerations that vary from 10/12 dys. Following malolactic fermentation they are racked into French oak barriques, where they remain for 10 to 12 months.
Organoleptic characteristics
Colour: ruby red, very intense.
Fragrance: rich and full, varietal characteristics of the vines are well present.
Flavour: generous and balanced with herbaceous notes framed by fine oak.
Alcoholic content: 13% vol.
Recommended serving temperature: 18°-20°, if aged 20°-21°.
Recommended glass: Large glass, short-stemmed.
Label
"Cistus Albidus" local species of plant which is commonly found between the spontaneous Mediterranean flora on the coasts of the island. It forms vast marquis with a flower that is reminiscent of the wild rose.